U-litter
Ragweed's Gloss aka Gloss by FTW Ragweed's Black Rod aka Roddy

On December 16th, 2021, Gloss gave birth to 1 black boy and 2 yellow girls.

Gloss is a wonderful yellow female, with a stocky build in our favorite size and coat. As a typical Stefanie Latham selected female, she carries lots of style and working skill. Gloss cannot deny her sire Beileys, as you can see so many similarities between them. Her dam, Raven, comes out of a very successful litter.

Raven's litter brothers, FTCH Emmanygan Ramble and FTCH Emmanygan Rocket ran several years successfully at the IGL Retriever Championship handled by John Halstead. 
Gloss' sire, FTCH & INT. FTCH Beileys Aguzannis, in the same year, achieved an International FTCH title in Europe, as well as the FTCH title in the UK. He won the IGL Retriever Championship in 2016, and his full brother FTCH Asterix Aguzannis won the IGL title in 2015.

Gloss' brother, FTW Ragweed's Grandeur, is also based in our kennel. Gloss' genetics are highly valuable for our future breeding program!

FTW Ragweed's Black Rod was one of the last sons of FTCH Pocklea Adder. His genetic back ground goes back 20 years to dogs with an incredible game finings ability, as FTCH Pocklea Remus.

Roddy was a very sweet and easy going dog. His temperament made him to the perfect hunting companion and he would not let you down on any bird. Unfortunately the day this litter with his last son was born, we had to let him go.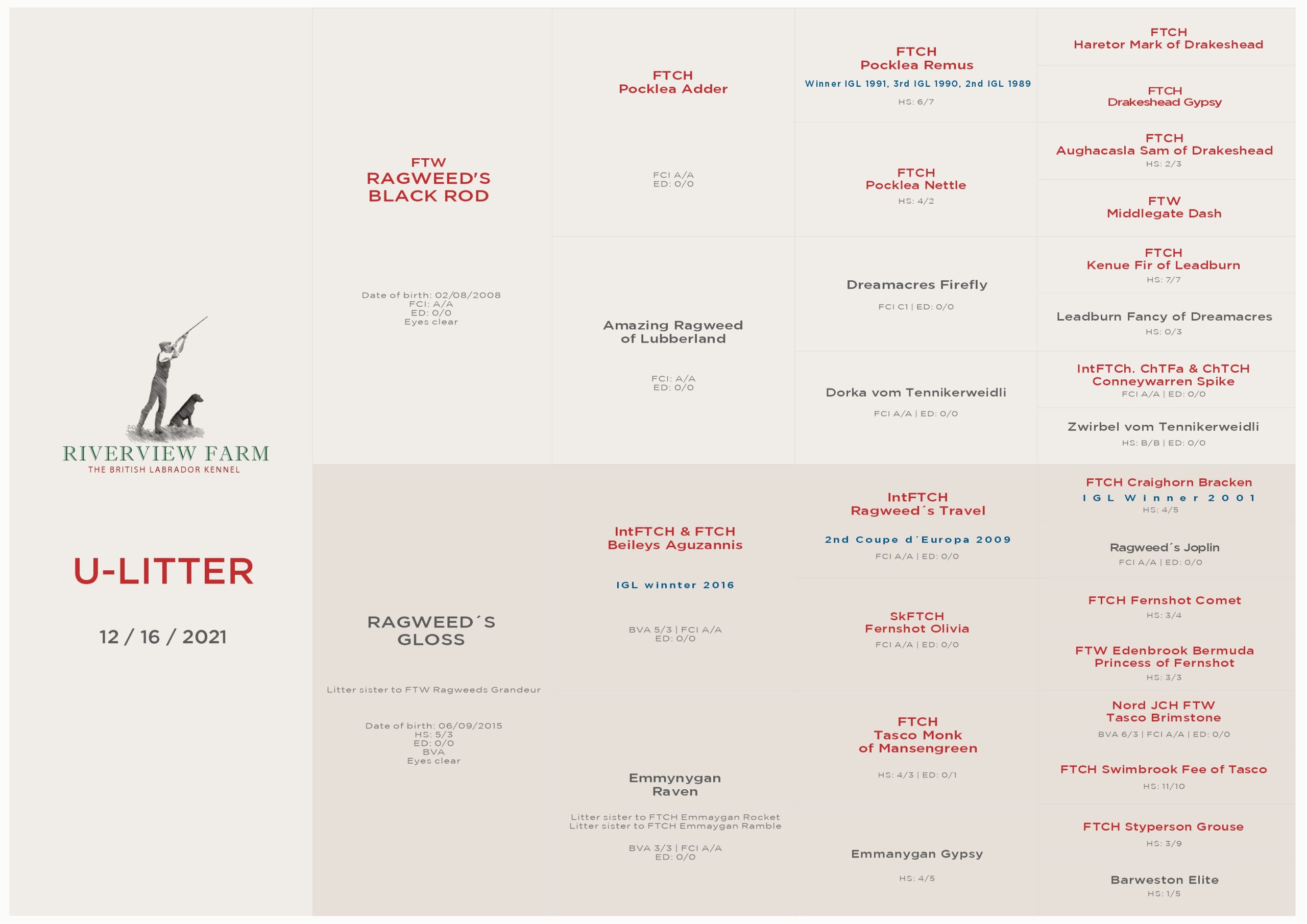 Health Results

Ragweed's Gloss
HIPS: BVA 5/3
ELLBOWS: 0/0
GENTETICS: CNM N/N, PRA N/N, EIC N/N, SD2 N/N
Eyes clear

Ragweed's Black Rod
HIPS: FCI A/A
ELLBOWS: 0/0
Eyes clear